Australian Open: Novak Djokovic crushes Andrey Rublev to reach semi-finals
Jan 25, 2023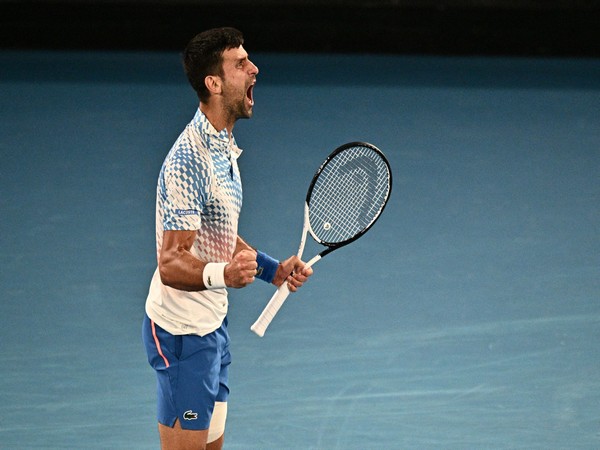 Melbourne [Australia], January 25 : In a remarkable victory, the nine-time champion Novak Djokovic produced a devastating quarter-final display to breeze past Andrey Rublev into the semi-finals of men's singles event of the ongoing Australian Open 2023 here at Rod Laver Arena on Wednesday.
The nine-time champion accelerated to a comfortable victory against Rublev 6-1, 6-2, 6-4 in a match that lasted for a two-hour, three-minute victory on Rod Laver Arena.
The win backed up Djokovic's masterful fourth-round display against Alex de Minaur, during which he dropped just five games. The World No. 6 Rublev was Djokovic's highest-ranked opponent thus far in his Melbourne campaign.
"I would rank it as number two, but very close to the performance of two nights ago. I cannot be happier with my tennis, honestly. I'm playing very solid from the back of the court and really love playing in these conditions on this court... It's definitely the most special court for me," ATP.com quoted Djokovic as saying.
"Overall I think that the scoreline in the first two sets doesn't speak the truth or the reality of the match. It was some really close games that we had. Andrey is a great opponent, a great player. I've got tonnes of respect for him, one of the biggest forehands, one of the quickest players on the Tour," said Djokovic.
"If I have to sum it up, all the important shots, the important moments I found my best tennis. So that's what makes me the most pleased tonight," he added.
In order to match Rafael Nadal's record of 22 Grand Slam victories, Djokovic must defeat Tommy Paul in the Melbourne semifinals. Paul defeated Ben Shelton 7-6(6), 6-3, 5-7, 6-4. The 35-year-old would return to No. 1 in the ATP Rankings for the first time since last June if he won the tournament in Australia.