J-K: No opposition unity as key parties' leaders skip Bharat Jodo Yatra's concluding event in Srinagar
Jan 30, 2023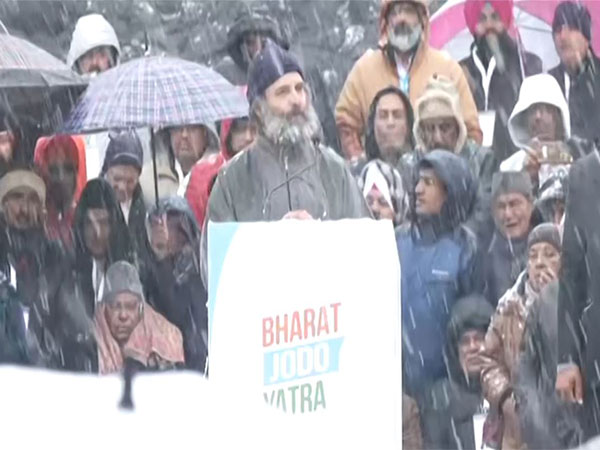 New Delhi [India], January 30 : As Congress' Bharat Jodo Yatra officially came to a conclusion in Jammu and Kashmir's Srinagar on Monday, absence of several top opposition leaders from its closing event raised eyebrows on the opposition unity.
The top leaders of political parties including the Nationalist Congress Party (NCP), Trinamool Congress (TMC), and Janata Dal-United (JD-U) did not turn up at final event of Rahul Gandhi-led the Bharat Jodo Yatra in Srinagar on Monday.
TMC supremo Mamata Banerjee, NCP national president Sharad Pawar, and Samajwadi Party Chief Akhilesh Yadav -- who is maintaining distance from the Yatra since its UP leg, were among the top political leaders who were not onboard the flight to Srinagar.
Interestingly, DMK chief and Tamil Nadu Chief Minister MK Stalin, who flagged off the 'Yatra' in Kanyakumari months back abstained from participating at the closing of the event at Sher-i-Kashmir Cricket Stadium in Srinagar.
Their party representatives however joined the Yatra's final event.
Notwithstanding, Congress is a slice of the ruling Grand Alliance in Bihar along with JD-U and RJD, still, both parties' leaders (Tejaswi Yadav and Nitish Kumar) have not reached Srinagar yet.
JD-U last week announced its 'inability' to join in the culmination event of the Bharat Jodo Yatra.
Citing another party event on the same day party's national president Rajeev Ranjan alias Lalan Singh wrote Congress president Mallikarjun Kharge saying that he will not be present at the closing ceremony as he has to attend the launching of the party's election campaign at Wokha in Nagaland the same day.
However, parties which will turn up at the event include Tamil Nadu ruling DMK, Farooq Abdullah's National Conference, Peoples Democratic Party headed by Mehbooba Mufti, Viduthalai Chiruthaigal Katchi (VCK), IUML, Kerala Congress, CPI, RSP, Shibu Soren's Jharkhand Mukti Morcha (JMM).
Earlier on Saturday, Mehbooba Mufti with her daughter Iltija Mufti joined Bharat Jodo Yatra, at Awantipora, in Pulwama.
Congress' Yatra got immense support from the Uddhav Thackeray camp Shiv Sena, with party MP Priyanka Chaturvedi summing up the foot march in 3Ds, displayed by Rahul-- Discipline, Determination, and Dedication.
Taking to Twitter, Priyanka Chaturvedi said, "As the #BharatJodaYatra concludes one must acknowledge and commend the 3Ds displayed by Shri Rahul Gandhi- discipline, determination and dedication to the worthy cause of uniting the nation as envisaged in our constitution. Long live democracy! @INCIndia."
Bahujan Samaj Party (BSP) MP Shyam Yadav will also join Rahul Gandhi in Srinagar, but he asserted that he would be reaching in his individual capacity.
Congress leader Rahul Gandhi accompanied by his sister and party general secretary Priyanka Gandhi, on Sunday unfurled the national flag at the clock tower of Lal Chowk in Srinagar yesterday.
Since September 7, Rahul has criss-crossed a dozen state and two union territories, covering 4,080 kilometres.